Reid Replacement Pullet Feeding Program
A set of fully balanced, high performance Replacement Pullet Feeds.
This set of mash chick and pullet feeds are produced by Reid Stockfeeds using state of the art grain crushing and mixing facilities. High quality grain is evenly ground and combined with protein meals, fats or oils, minerals, vitamins and anti-coccidial (when appropriate) to ensure even spread through the feed.
The nutritional requirements of replacement layer chicks and pullets change as they grow. It is vital to invest in pullet preparation to set the flock up for excellent performance during lay.
Read More
Reid Replacement Pullet Feeding Program Specifications
Chick And Pullet Feeding Program Varieties
Chick Starter Feed
If you are a poultry farmer and looking for chick stock feed that will help you to improve the production and growth of your poultry, then Reid Stockfeeds are here to help. We are a family run business that has been manufacturing and producing various types of livestock feed for almost forty years. In addition to many other products, we specialise in chick stockfeed and have built a sound and solid reputation for excellence when it comes to our chick feed.
Our Reid Chick Starter Feed has been designed to address the energy and protein needs of chicks from the moment they are hatched until they are six weeks old. It also contains 100ppm Lansalocid Sodium for the prevention of coccidiosis. All of our feeds are specifically designed and produced by expertly trained staff.
The Only Chick Starter Feed You Need
We use some of the most up-to-date procedures within our manufacturing technology. We also ensure that our chick starter feed is produced in accordance with stringent quality control and assurance programmes. As a result of our outstanding practice, we have become an ISO Quality endorsed company and we were the first stock feed manufacturer to be awarded a FeedSafe accreditation in Australia.
The Importance of Using the Right Chick Starter Feed
Our starter feed is a dense form of chicken feed that has a high protein content in order to accommodate the dietary needs of infantile chicks. Most chicks can live comfortably on a diet of water and our starter feed for the first six weeks of their lives, at which point you can advance them onto another one of our grower feeds. The high levels of protein help to make sure that your chicks become healthy and vibrant pullets.
The diet put forth through our starter feed has been formulated in accordance with the specific requirements of select breeds, which includes differing levels of canola for Hyline, Lohmann and Isa birds. It is for this reason that breed type must be made clear when you place your order as this will allow us to provide you with the correct feed for your breed.
More Than Just Chick Starter Feeds
If you order from us, you will have the peace of mind that comes with knowing that you have ordered a high quality feed. You will also have access to our expert team. Our sales and technical service team are highly trained and fully qualified in nutrition and their training is continually updated on a regular basis. We also offer ongoing advice and support from our team of consultant nutritionists in regards to feed and performance.
We know that you will want to choose the best start feed for your fluffy newcomers, and with so many choices available, you might think you're spoilt for choice. However, the sad truth is that not all feeds are created equal and you might end up making the wrong choice.
If you make the right choice and choose our product, then you can rest assured that our feed and our supportive team will help your flocks to grow and prosper. Contact us now and find out for yourself why so many of our customers remain loyal to our family run company.
Read Less
For The Best Start
The best layers have the right nutrition from the day they hatch. Choose premium chick and pullet feed for hens that produce bigger, better quality eggs at high volume.
Why Feed Reid?
Reid Stockfeeds' fully balanced chick and pullet feed contains all the essential nutrients required to support growth and development and immunity during rearing.
This specially formulated phase feeding program meets the changing needs of pullets as they grow into high performing layers. 
Feeding Instructions
Three-phase replacement pullet feeding programme
| | | | |
| --- | --- | --- | --- |
| Diet | 1 – 6 weeks of age  | 6 – 12 weeks of age | 12 weeks of age to 10 days prior to Point of Lay |
| Reid Chick Starter |   |   |   |
| Reid Pullet Grower |   |   |   |
| Reid Pullet Developer |   |   |   |
IMPORTANT: refer to your hatchery's Management Guide for recommendations on how to encourage chick to consume feed during the brooding period.  
Ensure chicks and pullets have access to ample feed (ad libitum basis).
Usage Tips
These chick and pullet feeds are suitable for most commonly applied feeding systems but pan-style feeders are preferred.

Ensure there is sufficient feeder space to avoid competition between individuals. Insufficient feeder space will result in a lack of body weight uniformity that will ultimately result in poor performance during lay.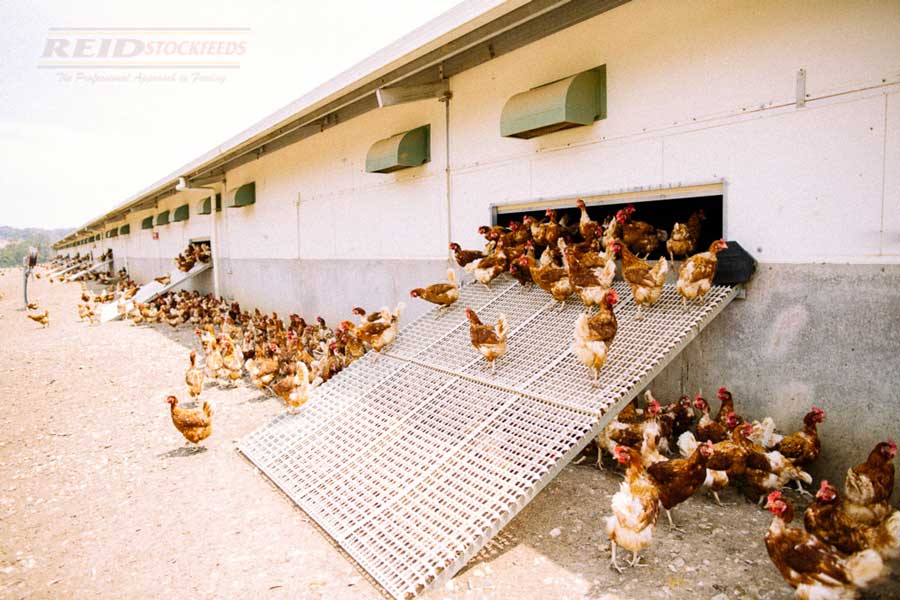 With Holding Periods
Reid Chick Starter and Reid Pullet Grower contain 100ppm Monensin. 

DO NOT FEED TO birds producing eggs for human consumption.
Free Range Feeding Advice From Reid Stockfeeds
Hens may go 'off the lay' during winter months if they do not spend enough time in the light. Ensure hens are provided with light as recommended by your hatchery's Management Guide.

Heat stress can result in poor egg production and can lead to avoidable mortality. Ensure hens have plenty of shade and are well ventilated in Summer. Employ foggers if possible. 

For healthy layers, it is vital to ensure drinking water is cool and is always available.