Since 1975 the number of Australian farmers aged under 35 years has declined by 75% and the shortfall of local labour is now putting a strain on production capabilities.
Australia's farming population is ageing, averaging 53 years and this trend has been raising alarm about the drain of youth from the dairy industry and country communities. This drain of youth and talent points to a decline in farming production and economic output which not only negatively effects the nation but most importantly regional communities.
"Somewhere along the line, the connection between agricultural and where our food comes from has been lost", said Deanne Kennedy, Project Co-ordinator of Cows Create Careers. "The challenge is that many students have a low knowledge-base about Agricultural, they have little perception of the excellent opportunities that Agriculture can provide, this is where Cows Create Careers can play a role".
Youth engagement programs such as Cows Create Careers, have been created to attract young people to dairy and more broadly the agriculture industry. The program aims to demonstrate that farming presents an excitingly diverse, modern and rewarding career and results show that these programs are working.
Cows Create Careers is a National program with a grass roots history linked to Victoria's Gippsland farming community. Lead by a group of Strzelecki Lions Club volunteers, alongside Melbourne University (McMillan), the program was launched in 2004 with the introduction of calves to nine schools. The calves in schools enabled children to have a hands-on farming experience.
Whilst the goal of providing local schools with a calf to rear seemed simple, there were many aspects of this project model that needed to be addressed before it could begin in local schools. 
"At the time when we approached Reid Stockfeeds about providing the calf feed for the Cows Create Careers, the program was untested and had no runs on the board, so we were amazed by the enthusiasm the team at Reid's showed", said Mrs. Kennedy.
Since inception the program has grown and so too has Reid Stockfeeds support. Within Victoria alone, the program reaches over 60 schools and includes regular presentations from industry advocates covering career specific topics.
"There's a lack of knowledge within regional communities about the various pathways into the dairy industry.  Many students in rural communities are town people who happen to live in the country", said Mrs. Kennedy. "Our aim is to showcase to students the large array of vocational and university career pathways into dairy, it may be that students pursue their studies and come back to a rural community to work."
One of those industry advocates is Daniel Bacon, a Ruminant Nutritionist at Reid Stockeeds who completed the Cows Create Careers program during his high school years.
"At high school, I was inspired by a nutritionist who presented to us during the Cows Create Careers program", said Mr. Bacon. "The fact that I'm now delivering the presentation is pretty good evidence of the program's success."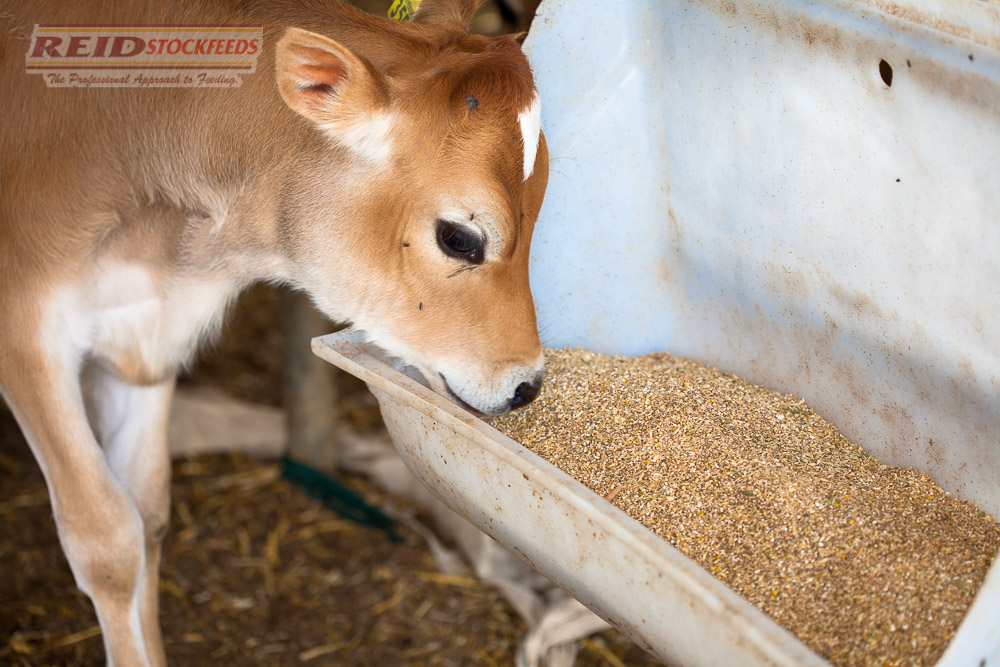 Progressing from the Cows Create Careers program, Reid Stockfeeds provides work experience and internship opportunities for people who show an interest in the dairy industry.
"Any opportunity to show off the industry as a high-tech, professional career is beneficial", said Mr Bacon. "80% of my friends left town after high school without a clue of the careers available locally. If they had attended a Cows Create Careers presentation the result might have been different."
In 2016, Cows Create Careers had 11,900 students from across 23 Australian dairy producing regions complete their program. Early data indicates around 6.5% of those participants will seek a career within the dairy industry, helping to secure a bright future for Australia's agricultural industry.
For more information about Reid Stockfeeds involvement in the Cows Create Careers program, email enquiries@reidstock.com.au.