The new SFMCA FeedSafe logo has been released. See below for what it means, how a manufacturer qualifies and the benefits for livestock producers.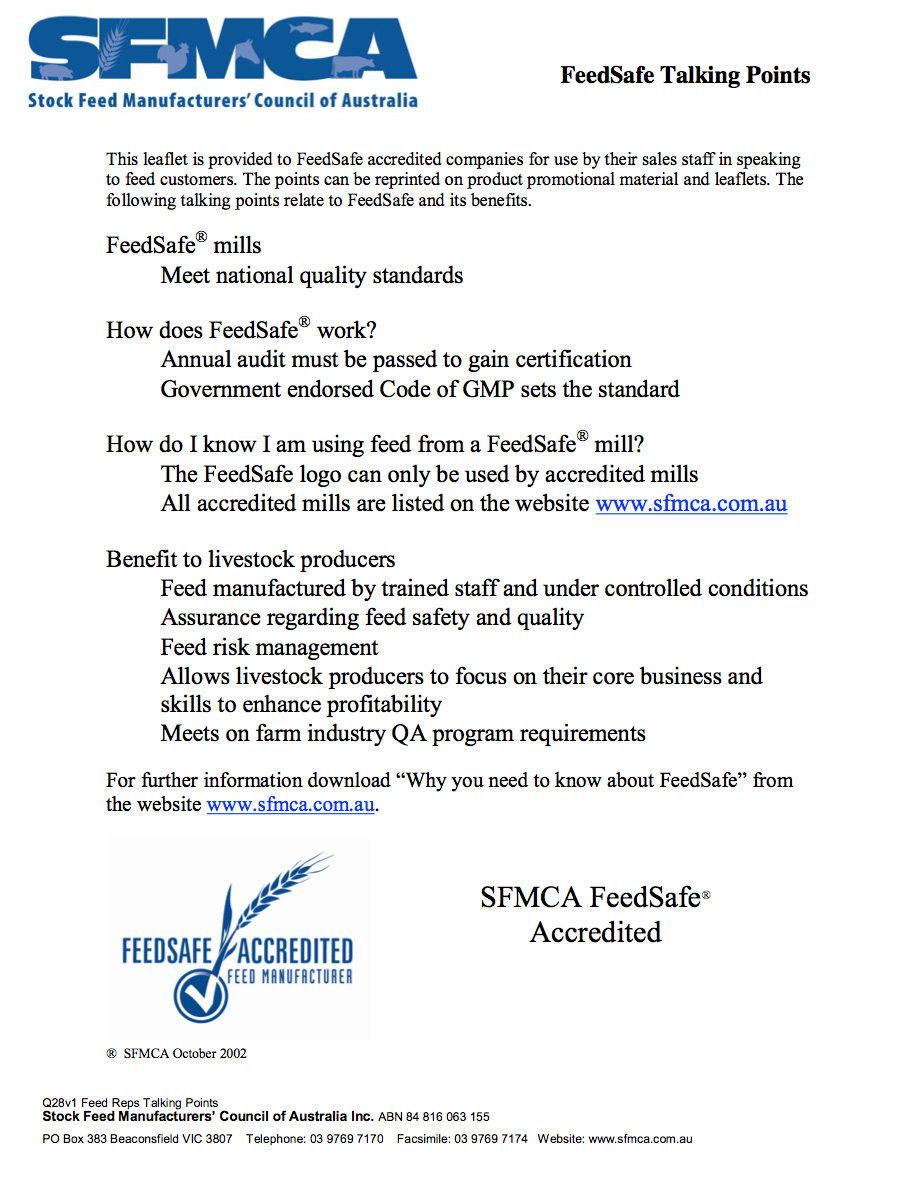 FeedSafe Q&A (all info taken from SFMCA)
Q. What is FeedSafe?
A. All stockfeed mills in Australia have been challenged to meet the minimum quality standards defined within the Australian Code of Good Manufacturing Practice (GMP) for the Feed Milling Industry. This is a government endorsed code, which defines the minimum standards for the manufacture of stockfeed.
FeedSafe is the programme used by the SFMCA to audit feed mills to ensure they comply with the Code of GMP. The Code defines minimum standards for:
Feed mill buildings and equipment
Training of staff
Approval of raw material supplies and quality
Feed formulation
Manufacturing procedures
Testing of finished feeds
Handling customer feedback
Use of chemicals and feed additives
Livestock producers can be assured that feed manufacturers who have completed FeedSafe accreditation meet the minium defined quality standards.
Q. How does FeedSafe link with farm QA?
A. Feed mills are required to work with grain and other suppliers to access vendor declarations relating to use of chemicals and other issues. When feed is supplied to clients, FeedSafe is recognised as a third party QA programme to meet the requirements for livestock QA programmes.
Q. How do I know FeedSafe makes a difference?
A. FeedSafe is based upon a Code of GMP endorsed by Commonwealth and State government. Manufacturers must annually pass audit and any that fail have their FeedSafe accreditation removed. It is in the interest of feed mills to ensure they meet FeedSafe's standards.
Q. How do I know if non FeedSafe mills meet the Code of GMP standards?
A. The SFMCA is the only industry body which provides FeedSafe accreditation. Feed suppliers who have not gained FeedSafe accreditation can not use the FeedSafe name and logo, and livestock producers can not be sure these feed suppliers meet a minimum quality standard.
Q. Is feed from a FeedSafe supplier better quality?
A. The assurance for livestock producers is that feed from a FeedSafe accredited mill is manufactured under a minimum standard that covers all areas relating to feed quality.
Q. How can I be sure my feed supplier is FeedSafe accredited?
A. All FeedSafe accredited sites are listed on the SFMCA website. FeedSafe audits are completed for milling sites. Where companies operate more than one site they are required to gain accreditation for each site.
The SFMCA has worked with all its members to make FeedSafe compulsory. This has resulted in the widest possible uptake of the QA programme and allows the industry to provide a consolidated commitment to ensuring safe feed is being supplied to Australian livestock producers.
Any feed suppliers not listed on the SFMCA website are not FeedSafe accredited. The SFMCA recommends livestock producers should only purchase stockfeed from FeedSafe accredited mills.
Q. How do livestock producers know the manufacturers FeedSafe rating is current?
A. Feed mills complete annual audits against a Code of Good Manufacturing Process (GMP). These audits are conducted by independent auditors who confirm that the site meets the minimum manufacturing standards. These audits are completed on site, with auditors identifying any areas of non-compliance which require rectification.
The SFMCA issues FeedSafe certification which allows them to promote their accreditation. Companies have the opportunity to display the FeedSafe name and logo on their products, advertising, delivery vehicles and promotional materials.