Due to the extremely dry weather since November 2017, our nutrition team have spent many hours with farmers formulating plans and rations for milk production in the absence of pasture.  These plans have mostly relied on large amounts of conserved and/or purchased fodder as the bulk of the diet and the reserves of both are now looking slim.  In recent weeks, many parts of Victoria have received long awaited rains and pasture is now starting to shoot again, bringing the promise that the need for feeding out is coming to an end and that we may not need that next load of hay. Unfortunately for many, when looking at profitability over the next 12-18 months, nothing could be further from the truth.
Looking forward into the next milk season, predictions of low milk price mean that home grown fodder utilisation will be critical for dairy farm profitability.  This is true in any season and at any milk price, but never more so than now.
There are many differing approaches to feedbase management throughout autumn.  However once the "break" arrives, there are three main scenarios.  The basic scenarios are
Continue feeding conserved/purchased fodder until pasture cover reaches minimum 2200kgDM/ha before recommencing grazing rotations
Continue feeding conserved/purchased fodder with some grazing and normal supplementation
Recommence grazing rotation immediately with some feeding out and reduced supplementation
After prolonged periods of feeding out and lack of pastures, it is tempting to let our cows have whatever pasture is available as soon as it appears.  There are plenty of reasons to do so. Our cows are happier on grass, they produce better, it costs us less, cash-flow is low, we could use the time better than feeding out, and the list goes on.  But let's look at what happens when pasture is over-grazed or grazed too early as the season progresses.
As described in the below tables, allowing cows to recommence grazing as in Scenario 2 & 3 may offer reasonable margin over feed cost but the ongoing effect is that throughout late autumn and winter, pastures do not have the opportunity to build energy reserves, therefore spring pasture growth and availability, is restricted. The spring flush of pasture comes later and is shorter, milk production is restricted, and cost of production is increased.  Overall, profitability is lost and this is an ugly place to be.  The volume of feed available for harvest in the new season is reduced, hence reducing the fodder available for feeding the following autumn.  And so the cycle goes on.
Maintaining the current programme of feeding conserved/purchased feed for another 4-6 weeks and allowing pastures to gain a cover of at least 2200kgDM/ha before grazing (as in Scenario 1) does require more to be spent on fodder right now (cash-flow implication?), however it will also create the situation for good growth through spring with more pasture harvested directly by cows, improving profitability.  In addition to this, the opportunity to conserve greater amounts of better quality fodder and increase persistence of pastures creates even higher farm returns for the following season.
Wherever possible, cattle should not be allowed to graze pastures until 2200kg DM/ha cover is achieved and grazing residuals of minimum 1500kg DM/ha should be maintained, even if we need to purchase more hay to do so.  This practice allows pastures to build reserves in the root system resulting in faster recovery from grazing, earlier growth exiting winter, increased pasture harvested and increased profits. A good place to be!
For more information about feed base management options please contact one of our nutrition team at Reid Stockfeeds.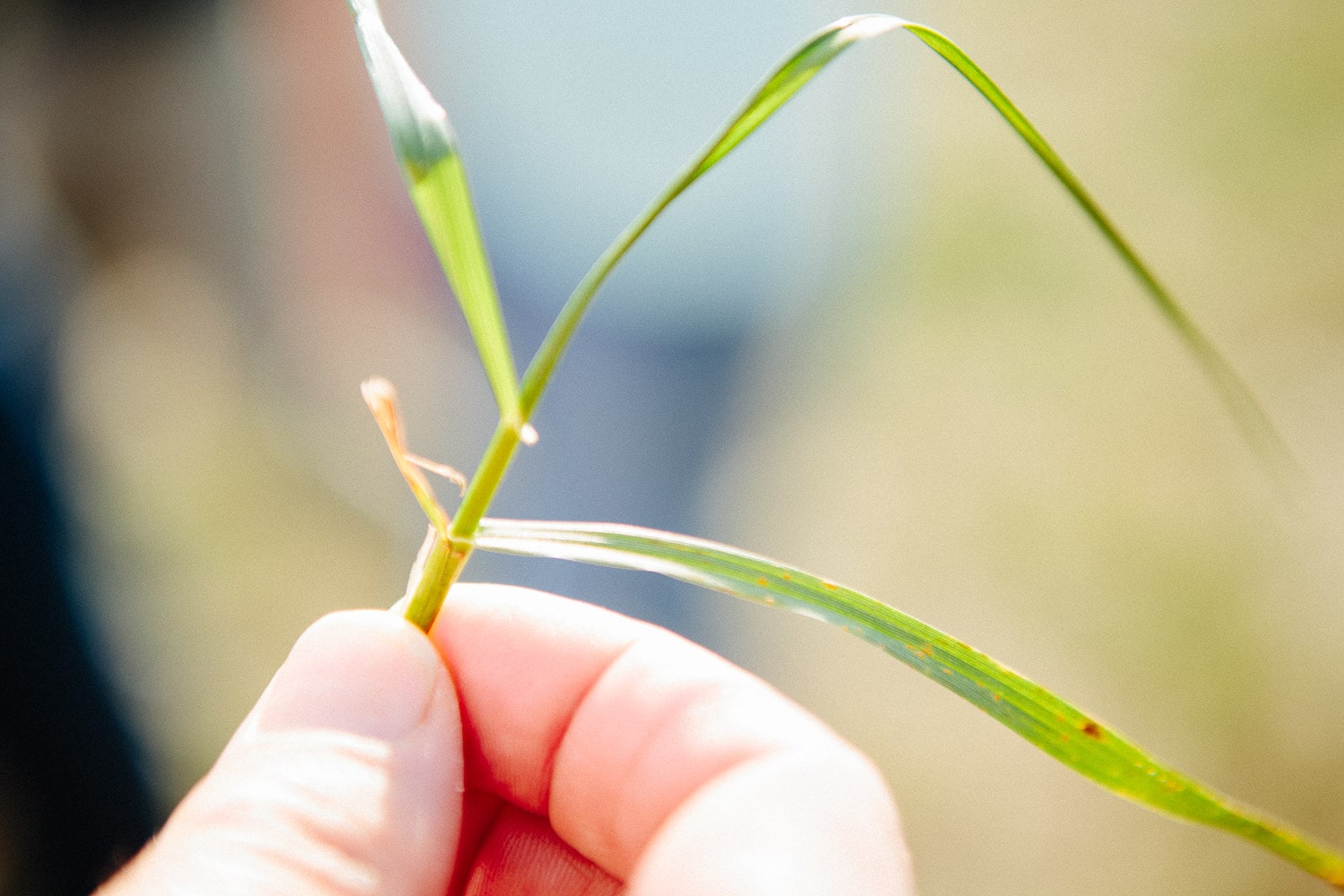 The following scenarios are based on the following parameters
250 cow farm
Vetch hay @ $270/t
Silage @ $200/t
Cereal hay @ $220/t
Pasture @ $100/t
Grain mix @ $360/t
Milk @ $0.39/lt (Apr-Jun) and $0.33/lt (July-Sept)
| | | | | |
| --- | --- | --- | --- | --- |
| Scenario 1 | | | | |
| | mar/apr | may/jun | july | Sept |
| Grain (kg/cow/day) | 6.3 | 6.3 | 6.3 | 5 |
| Silage (kg/cow/day) | 4.2 | 4.2 | 0 | 0 |
| Vetch hay (kg/cow/day) | 8 | 7 | 0 | 0 |
| Cereal Hay (kg/cow/day) | 0 | 0 | 2.5 | 0 |
| Pasture grazed (kg/cow/day) | 0 | 1 | 10 | 14 |
| DMI (kg/cow/day) | 18.5 | 18.5 | 18.8 | 19 |
| | | | | |
| Milk flow (lts/cow/day) | 26.4 | 26.6 | 28.4 | 29.4 |
| | | | | |
| MOFC ($/cow) | 4.79 | 5.03 | 5.44 | 6.41 |
| MOFC ($/herd) | 1196 | 1257 | 1359 | 1601 |
| cost of production (cents/litre) | 40.57 | 39.64 | 32.64 | 29.35 |
| Farm net profit ($/day) | -137 | -76 | 26 | 268 |
| | | | | |
| Scenario 2 | | | | |
| | mar/apr | may/jun | july | sept |
| Grain (kg/cow/day) | 6.3 | 6.3 | 4.5 | 6 |
| Silage (kg/cow/day) | 6.4 | 4 | 0 | 0 |
| Vetch hay (kg/cow/day) | 0 | 5.5 | 0 | 0 |
| Cereal Hay (kg/cow/day) | 2.8 | 0 | 5 | 0 |
| Pasture grazed (kg/cow/day) | 1 | 2.5 | 7 | 10 |
| DMI (kg/cow/day) | 16.5 | 18.3 | 16.5 | 16 |
| | | | | |
| Milk flow (lts/cow/day) | 22.3 | 26.5 | 22.2 | 23.5 |
| | | | | |
| MOFC ($/cow) | 2.98 | 3.83 | 3.82 | 4.47 |
| MOFC ($/herd) | 744 | 957 | 953 | 1116 |
| cost of production (cents/litre) | 43.54 | 38.67 | 39.84 | 36.7 |
| Farm net profit ($/day) | -589 | -376 | -379 | -217 |
| | | | | |
| Scenario 3 | | | | |
| | mar/apr | may/jun | july | sept |
| Grain (kg/cow/day) | 2.7 | 4 | 2.7 | 6 |
| Silage (kg/cow/day) | 8 | 4 | 0 | 0 |
| Vetch hay (kg/cow/day) | 0 | 5.5 | 0 | 0 |
| Cereal Hay (kg/cow/day) | 2.5 | 0 | 8 | 2 |
| Pasture grazed (kg/cow/day) | 1 | 3 | 4 | 8 |
| DMI (kg/cow/day) | 14.2 | 16.5 | 14.7 | 16 |
| | | | | |
| Milk flow (lts/cow/day) | 16.3 | 22.2 | 16.8 | 22.7 |
| | | | | |
| MOFC ($/cow) | 2.12 | 3.2 | 2.36 | 3.98 |
| MOFC ($/herd) | 529 | 801 | 591 | 994 |
| cost of production (cents/litre) | 52.66 | 42.61 | 50.65 | 38.97 |
| Farm net profit ($/day) | -804 | -532 | -742 | -339 |